Bus No. 7, New York City
, 1948
Gelatin silver print, printed later

Print: 11 x 14 inches
Signed, titled and dated by the artist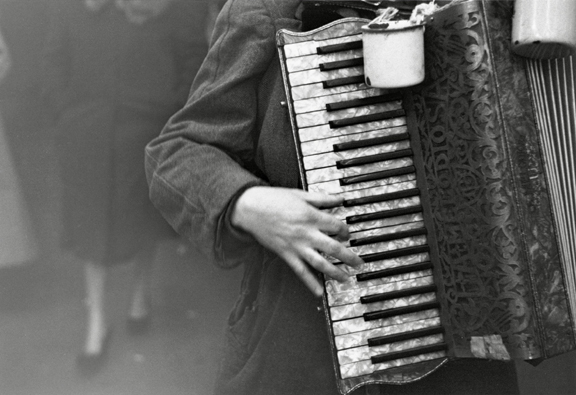 Gelatin silver print, printed later

Print: 11 x 14 inches
Signed, titled, dated and numbered by the artist

Market St., Philadelphia
, 1937
Gelatin silver print, printed later

Print: 14 x 11 inches
Signed, titled, dated and numbered by the artist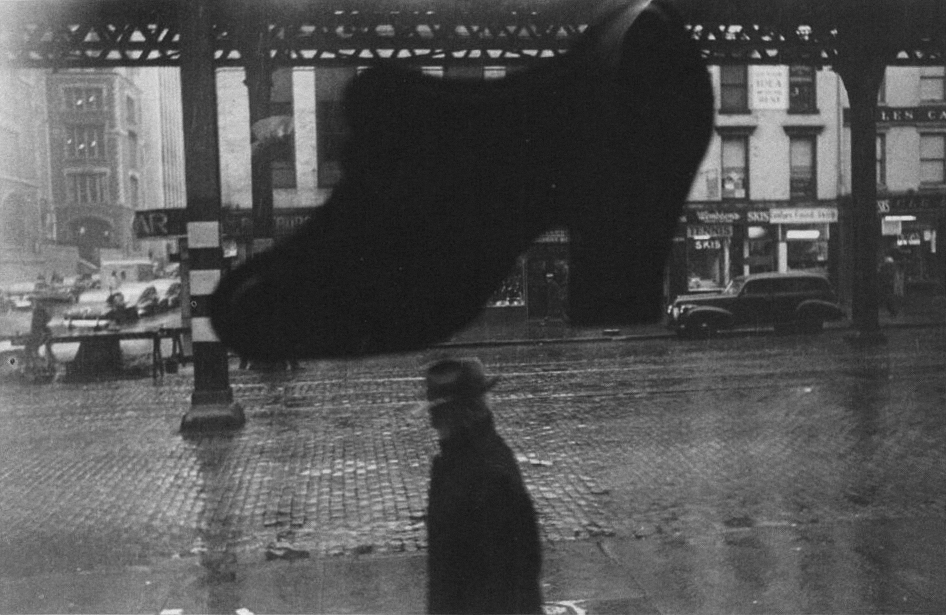 El on Third Avenue, New York CIty
, 1942
Gelatin silver print, printed later

Print: 11 x 14 inches
Signed, titled, dated and numbered by the artist

Theatre goers, New York City
, 1947
Gelatin silver print, printed later

Print: 11 x 14 inches
Signed, titled, dated and numbered by the artist

Gelatin silver print, printed later

Print: 11 x 14 inches
Numbered in pencil on verso, signed titled and dated by the artist

Texts
Louis Faurer (1916-2001) was born to immigrant parents from the Russian/Polish border and spent his early years in South Philadelphia. After graduating from the South Philadelphia High School for Boys in 1934, he spent a few summers as caricature artist in Atlantic City, New Jersey. Inscriptions of all sorts fascinated him, and he began studying at Philadelphia's School of Commercial Art and Lettering in 1937. He also worked freelance--painting advertising signs and lettering posters. That same year, Faurer purchased his first camera, a used 35mm Kodak Vollenda. Shortly thereafter, he won a prize in a weekly photo contest of the Philadelphia Evening Public Ledger. Faurer never attended classes in photography, except for a brief course he took in the military (from 1941-1945, he was a civilian photographer for U.S. Army Signal Corps, Philadelphia).
In the late 1940s, Faurer and several of his colleagues from Philadelphia opened studios in New York. Like many photographers of his generation, Faurer sought employment working for magazines, but unlike his photojournalist peers, who pursued careers at such publications as Life magazine, he gravitated toward fashion photography. In 1947, Lillian Bassman, the first art director of the short-lived Junior Bazaar (later incorporated into Harper's Bazaar), invited him to join the magazine's staff. The new magazine also hired Robert Frank, a recent immigrant from Switzerland, and the two immediately struck up a friendship that would last for fifty years.
Faurer was a key member of the New York School of street photographers active from the 1930s to the 1950s. A loosely defined group that included Diane Arbus, Robert Frank, and William Klein, the New York School chose city life as its subject, preferred 35mm cameras, and rejected traditional documentary styles.
During the 1950s, he began to focus more on his professional assignments than on his own personal street photography, working steadily for magazines such as Glamour, Charm, and Seventeen, Vogue and Mademoiselle. He created most of his fashion photographs in the studio.
In 1968, Faurer moved to London and then to Paris to escape trouble with the Internal Revenue Service and conflict with his wife. He returned to street photography in Paris, but his photographs from this period lack the clarity of vision that marks his work from the 1930s through the early 1950s. When he returned from Europe in 1974, he tried to resume photographing the streets of New York, but both he and the city had changed. In the fall of 1984, as he was exiting a bus, Faurer was struck by a car. This serious injury effectively ended his career as a photographer. He died in 2001 in New York.