Self portraits
November 28 2020 - February 20 2021
Untitled, Self-portrait
, 1953
Gelatin silver print, posthumous

Image : 12 x 12 in ( 30.48 x 30.48 cm )
Print: 20 x 16 inches
Signed and stamped by John Maloof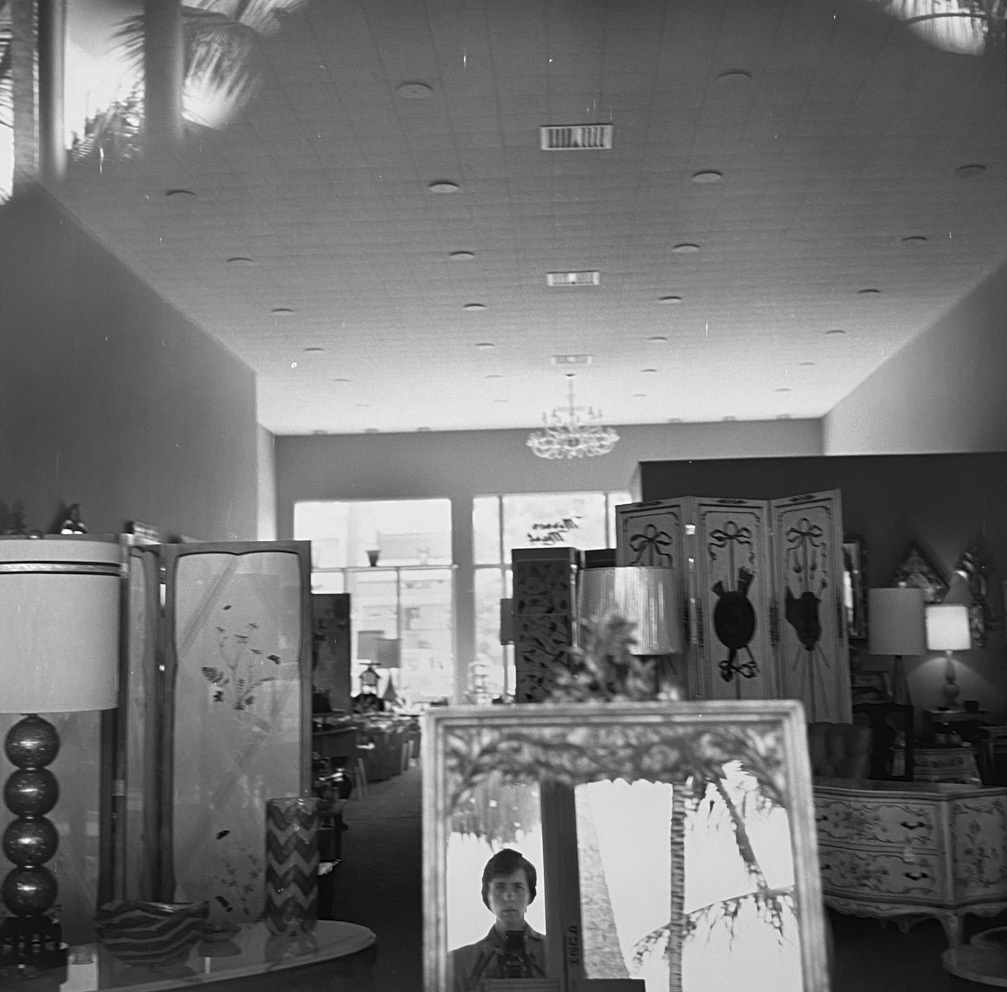 Self Portrait, Chicago area
, 1960
Gelatin silver print, posthumous

Image : 12 x 12 in ( 30.48 x 30.48 cm )
Print: 20 x 16 inches
Signed and stamped by John Maloof

Self-portrait, trip overseas
, 1959
Gelatin silver print, posthumous

Image : 12 x 12 in ( 30.48 x 30.48 cm )
Print: 20 x 16 inches
Signed and stamped by John Maloof

Self-portrait, Chicago area
, c. 1970
Gelatin silver print, posthumous

Image : 12 x 12 in ( 30.48 x 30.48 cm )
Print: 20 x 16 inches
Signed and stamped by John Maloof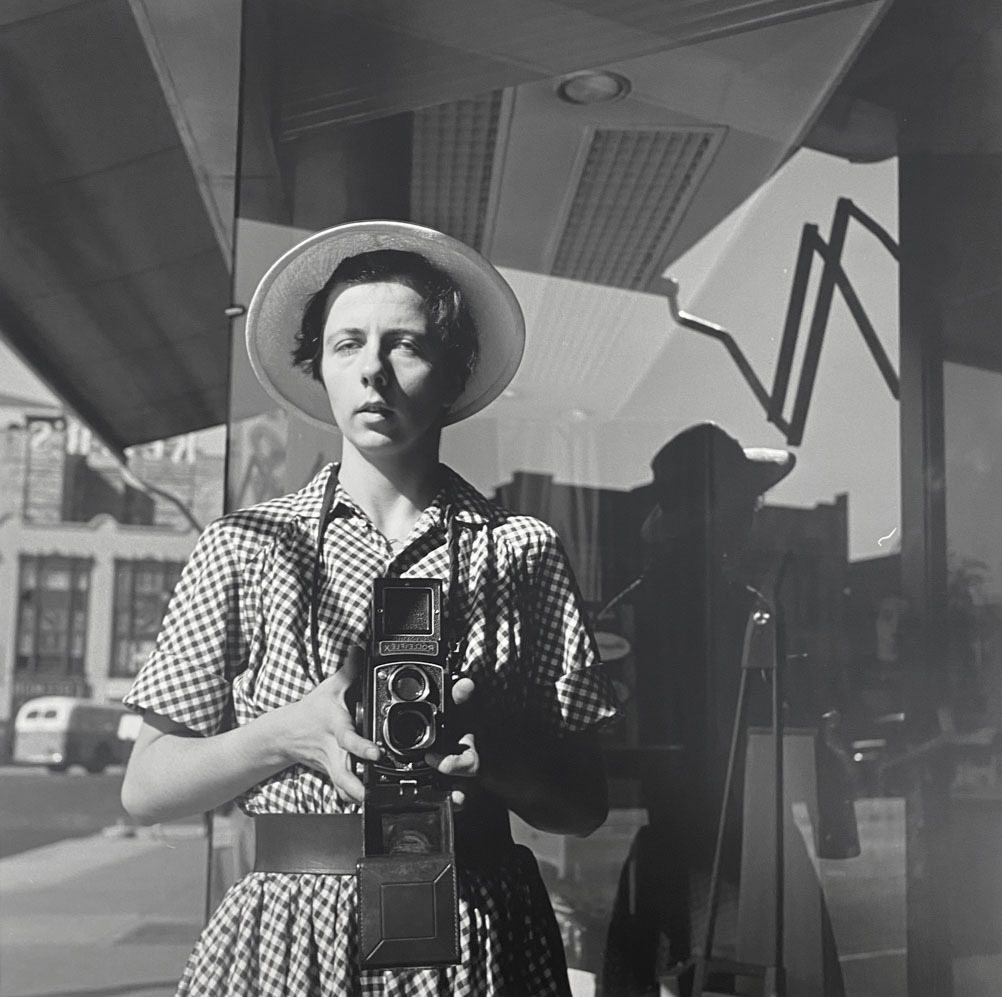 Gelatin silver print, posthumous

Image : 12 x 12 in ( 30.48 x 30.48 cm )
Print: 20 x 16 inches
Signed and stamped by John Maloof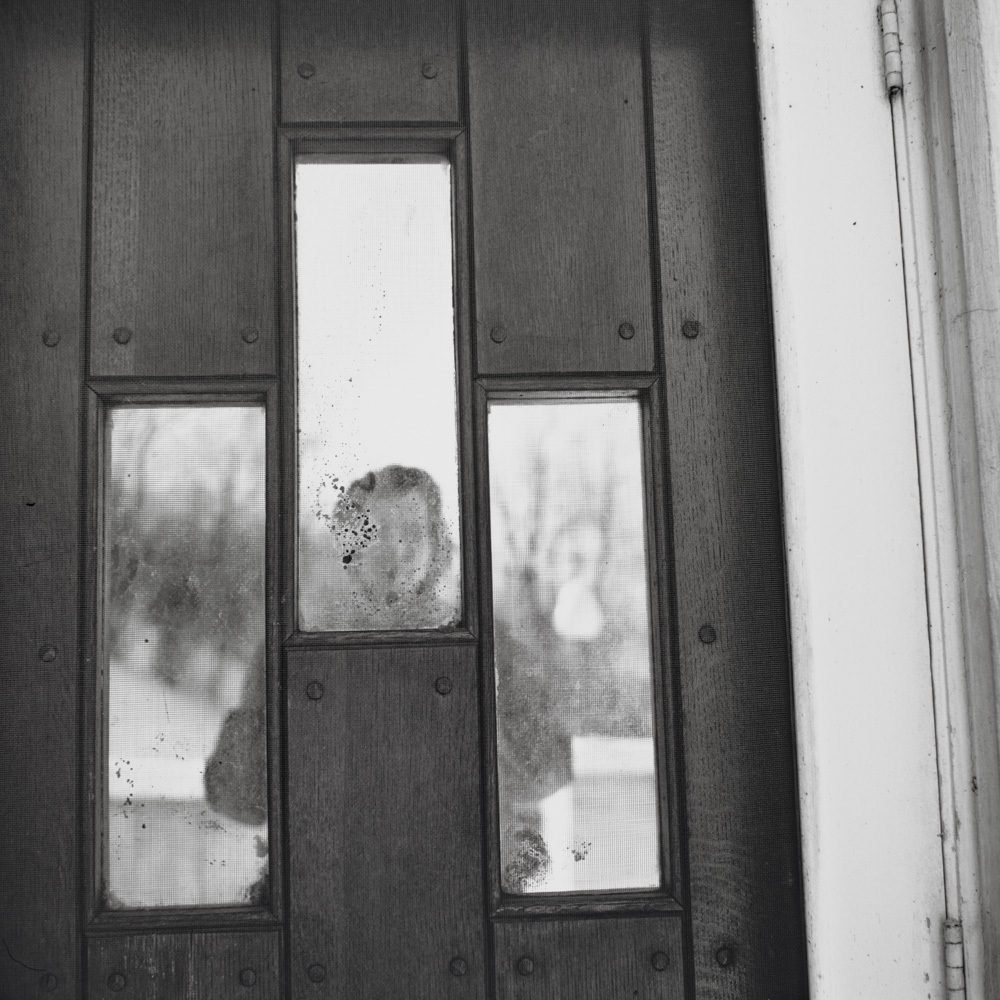 Self Portrait, Chicago area
, 1963
Gelatin silver print, posthumous

Image : 12 x 12 in ( 30.48 x 30.48 cm )
Print: 20 x 16 inches
Signed and stamped by John Maloof

Self-portrait, New York, NY
, 1954
Gelatin silver print, posthumous

Image : 12 x 12 in ( 30.48 x 30.48 cm )
Print: 20 x 16 inches
Signed and stamped by John Maloof

Self-portrait, New York, NY
, 1954
Gelatin silver print, posthumous

Image : 12 x 12 in ( 30.48 x 30.48 cm )
Print: 20 x 16 inches
Signed and stamped by John Maloof

Self Portrait, Chicago area
, c. 1960
Gelatin silver print, posthumous

Image : 12 x 12 in ( 30.48 x 30.48 cm )
Print: 20 x 16 inches
Signed and stamped by John Maloof

Untitled, self-portrait
, 1956
Gelatin silver print, posthumous

Image : 12 x 12 in ( 30.48 x 30.48 cm )
Print: 20 x 16 inches
Signed and stamped by John Maloof

Self-portrait, Chicago area
, 1956
Gelatin silver print, posthumous

Image : 12 x 12 in ( 30.48 x 30.48 cm )
Print: 20 x 16 inches
Signed and stamped by John Maloof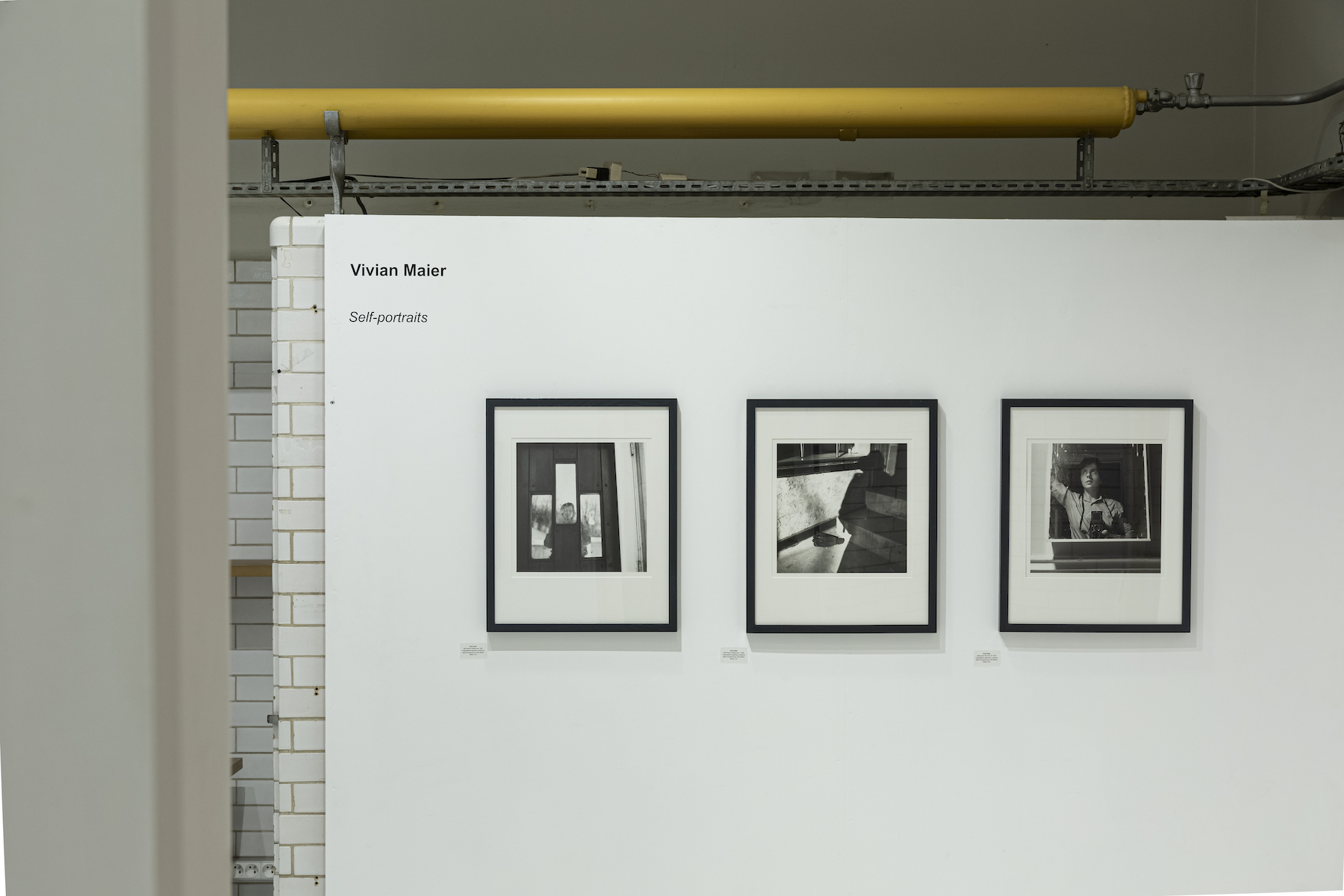 Vivian Maier, Self-portraits, 2020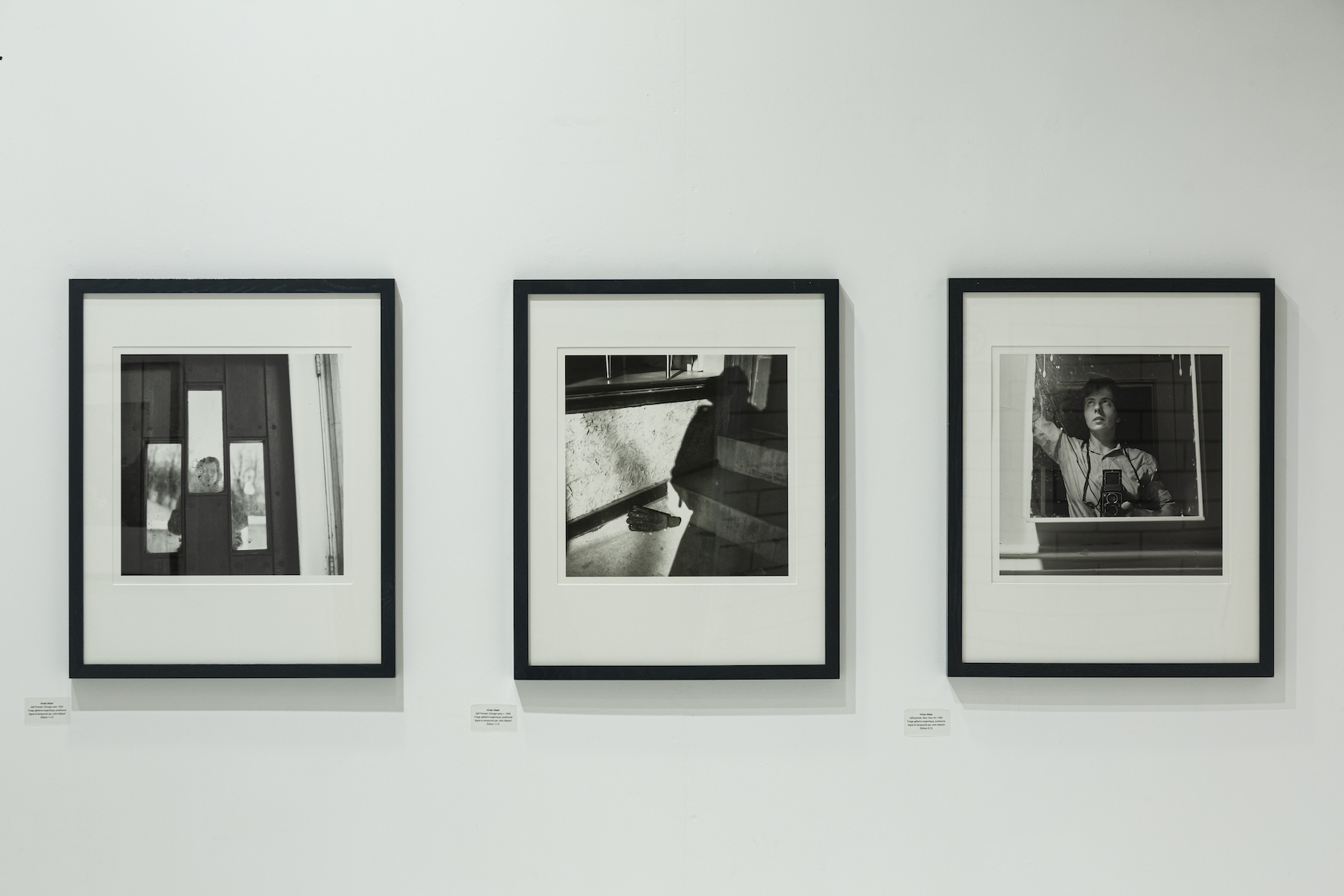 Vivian Maier, Self-portraits, 2020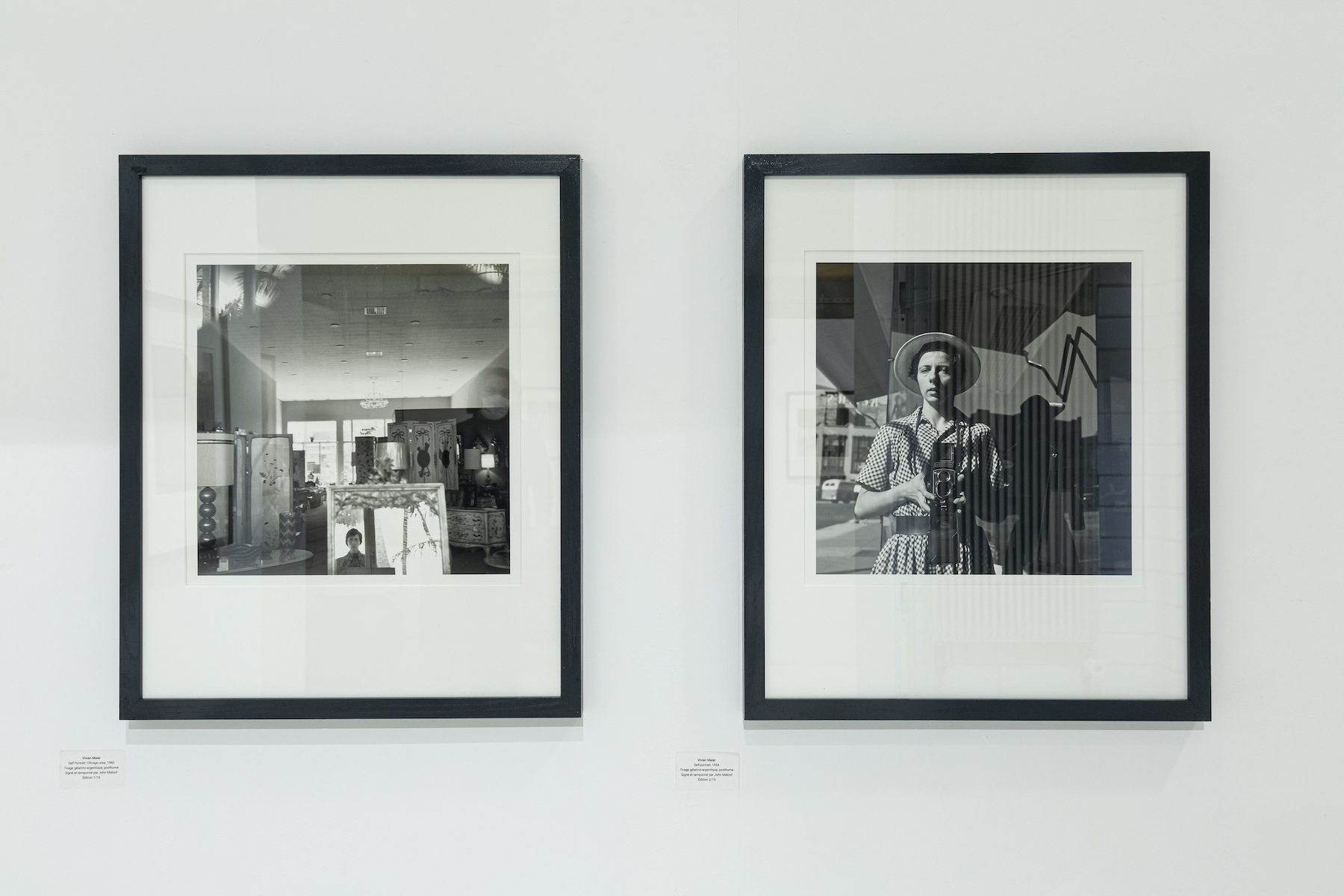 Vivian Maier, Self-portraits, 2020
Presentation
Les Douches la Galerie is pleased to present a new selection of self-portraits by Vivian Maier. Produced between 1953 and the 1970s, they once again demonstrate her eye for reflections, her great sense of composition and, more generally, the richness of her work.
Press kit
PRESS RELEASE
Self-Portrait: My Impressions of Vivian Maier
By Elizabeth Avedon
?I have often wondered about the significance of capturing your own likeness, the experience of being represented on both sides of the frame. I have to believe it is more than just vanity or narcissism. One would naively imagine a self-portrait informs us about the person. We observe the figure illustrated, and in the gaze back we believe we can determine something about their life, their work, their day. Searching for expression we discern clothes, choices, surroundings ? all in an effort to resolve the mystery of self.
I am not sure if we can read the « self » in Vivian Maier?s self-portraiture or even chart the progression of her life through their images. We look at her self-portraits for revelations, but she does not really give us much. She is alone in her reflections. Her viewpoint difficult to judge. No hint of emotion or reaction. Never a portrait with a partner. She is seldom with a friend, occasionally with a child. The strength of Maier?s character is found in the persona looking back at us. There is little compromise; and ironically for such a private, autonomous person, her self-portraits are some of her strongest work thus far.
She seemed to embody photographic wisdom beyond her knowledge ? always composing, rarely emoting. She sometimes made brilliant choices, sometimes she simply experimented. Reflective surfaces and glass permeate all of her work, the world fragmented as seen through frames, doorways, and boxes, her shadows projected into others? lives, onto sidewalks, and the backs of strangers. We see her reflected in surfaces through her lens and back again onto those same planes at different angles.
No great emotion is expressed in these self-portraits, little drama, inquisitiveness rather than self-examination, composition over expressed emotion. Vivian smiled if she could, though rarely, and seemed to live two different lives: her contradictory domestic life and personal, creative life. She saw the world through a skillful eye, but never trusted anyone to bear witness or audience to her work. Deeply intuitive, it is easy to imagine in Maier a difficult person: odd, complex, living in her own head.? (?)
?I suppose Vivian was not interested in making portraits of herself as a whole but rather a glimpse or vantage of the many sides that coexisted in one body. I sense hidden clues in Maier?s self-portraits of her shadow. In some ancient civilizations, one?s shadow alludes to a doppelgänger. They are many here. Shadows on sidewalks, shadows crossing over windows, over newspaper headlines, over dried leaves where her heart should have been? Who is the real guardian of these images she never showed to anyone?? (?)
?If I could interview Maier about her intent through her photographs I imagine this is what she would tell me. What drove me to have this secret life? My answer is, ?Don?t even open that door.? In truth, I resisted it for a long time. Recently, I started to look closely at all of her work that has been released so far and fell into it, like discovering a message in a bottle thrown in the ocean over 50 years ago. I was swept away by her brilliance. She is astounding compositionally and the mystery surrounding her life story is deeply compelling. I believe in the end we cannot truly understand or know Maier ? but the potency of her images allow us an unveiled window into her covert world. The work sings with photographic purity, the love for physically making pictures. There is no place or use for a witness or collaborator, remaining uncluttered and free from the pursuits of acceptance, notoriety, and celebrity.
So often contemporary photographic work needs something?It demands an audience, or requires funding. It needs someone to like it, share it, or comment to it. Images today are not content to exist on their own, they constantly seek opinion and validation, gathering numbing, repetitive rhetoric along the way. Vivian Maier?s work is extraordinarily different in that it only needed to be made. What magic. A misfit genius.?
Elizabeth Avedon
Excerpts from « Vivian Maier, Self-Portraits », powerHouse Books, Brooklyn, NY, 2013